Do you think you would you risk your life to save a stranger? Would it make a difference if it were an elderly person or a child? What about a neighbor's dog or cat?
When the rubber hits the road, I can't actually say what I would do.
I might like to make myself sound great and say, "Sure, I'd die for a stranger and a cute little furry kitty.
But really, I don't know. (Although, I recently braked for a turtle who was crossing the road if that counts for anything, and it took quite a while for him to cross, I might add).
Seriously, my answer is entirely inadequate, so lets put a little spin on the question today, shall we?
Would anyone die for YOU?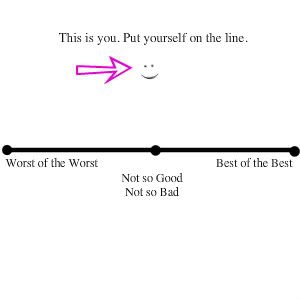 The further to the left you fall, the less likely it is that someone is going to want to die for you.
I'm sorry. That's the way it is.
The further to the right you fall, someone
might
be willing to die for you.
Maybe.
But, here's the good news:
It doesn't matter where you fall on this line. Someone has
already
died for you.
Even if you're worse than the worst of the worst, Jesus died for you.
"Now, most people would not be willing to die for an upright person, though someone might perhaps be willing to die for a person who is especially good. But God showed his great love for us by sending Christ to die for us while we were still sinners." Romans 5:7-8