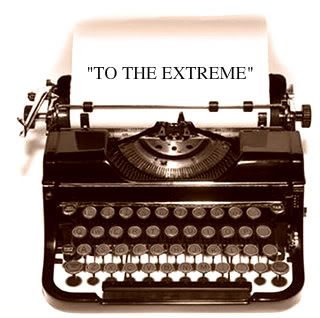 This week I came across the journal of jadeefj. She placed before me a challenge and I accepted.
The challenge:
Leave her the comment "TO THE EXTREME" on her blog entry and she would respond with 5 questions to answer.


So, here's her questions and here's my answers...
(By the way,
head on over to her journal
, add her as a friend - because she's nice- and leave the same comment.)
What brought you to the Carolinas?

There were exterior factors that one might assume brought us to NC (such as better weather, a love for the south, etc…) but really, when all is said and done, everything boils down to "Divine Providence".
The funny thing is, as we were praying about whether or not we should move, a song by James Taylor came on…
♫"I'm going to Carolina…"♫
That was it. We moved.
Why did you become a Christian?

I was raised in a Christian home and gave my life to God at a very early age.
Children believe what they are told.
I was told that God loved me, died for me, will forgive my sins and come into my life if I ask. I was childish enough to believe that it was true.
I still am.
"I tell you the truth, unless you change and become like little children, you will never enter the kingdom of heaven." Matt 18:3



What's your favorite season?

Spring.
There is nothing like new life springing forth after a long, cold, dead winter. Absolutely
nothing
.
Sort of reminds me of God's personal promise for each of us. We may be walking through a season of winter in our lives…but for those who belong to Him, spring will always come.
Always
.
"See! The winter is past; the rains are over and gone." Song of Solomon 2:11


How long have you been on Livejournal?
Four months.
How many kids do you have?

Six. You can read about that journey
here