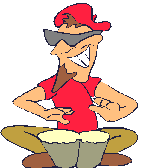 My 9 year old son walks to his own drum beat. Always has.
Shaping the spirit of this boy has been one of the most difficult challenges our family has ever faced.
He consistently chooses to overlook household rules, and no form of discipline has been entirely successful in achieving the results for which I have been hoping and praying.
This week (again) I sat him down and emphatically told him that the rules were for his protection. I reminded him (again) that
wisdom is knowing the right thing to do and doing it.

Last night, he stumbled upon a little card with a Bible verse. After quietly reading it, he began loudly blurting out,
"Oh, my gosh! Oh, my gosh! "
"What???" I asked.
"It's what you've been telling me. It says if I act foolishly I could get hurt. Oh, my gosh! I need to start acting wisely!"
He read the verse to me.
He who walks with the wise grows wise, but a companion of fools suffers harm. Pr. 13:20


God just turned on the lights!