If you broke a mirror, would you worry about bad luck even if you're not superstitious? Would you walk under a ladder or cross a black cat's path on a dare? Is there anything you're superstitious about?
I'm not superstitious, but I have enough Godly fear to stay away from all forms of witchcraft.
Interestingly, I could not even bring myself to plant a ground cover (which I thought was beautiful) by the name of Voodoo because of the symbolic meaning behind the name.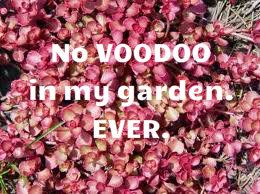 Tags:
onecarolinabrown
Latest Month
July 2015
S
M
T
W
T
F
S
1
2
3
4
5
6
7
8
9
10
11
12
13
14
15
16
17
18
19
20
21
22
23
24
25
26
27
28
29
30
31