How many times a day do you access your email account?
Which email? I have created so many emails – I can't even remember them all.
For instance, I have an email that spam folks got a hold of and sold about a million times. If you send me an email there I probably won't find it for about a year.
Then, there's the numerous twitter email accounts. I'm afraid I have had the horrible habit of creating accounts and shutting them down on a whim. I currently have a twitter account, but can I remember the password or the email connected to it? No. So, now I can't even access it to shut it down.
Then, there's the email I created for godtube and youtube several years ago. Tried to shut those down, too, but can't remember the email or password I created for those, either. (sometimes I try to be too clever or witty on these things and it backfires) The one video I uploaded to youtube will out there forever, I guess.
Then, there's my ebay email. Don't try to send me a note there because it's over capacity and will be bounced back to you. I haven't checked that thing in months.
Which leads me to my real email that I give out to friends and family. Hearing from those people is the highlight of my life…so I check that periodically throughout the day.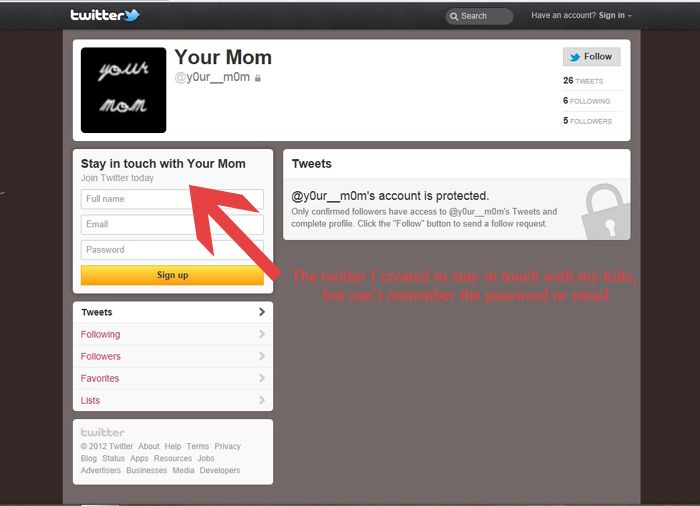 The email associated with this twitter is something like
yourmom@gmail.com
with a slight twist that I can't remember. By the way, don't try sending a note to that exact email because you'll get someone else's mom....