If you were 12 and could see yourself now, do you think you'd be happy or disappointed, and why?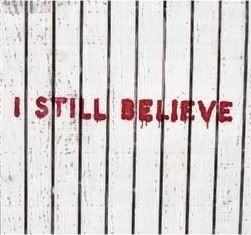 This is really strange, but when I was around 12, I can distinctly remember being somewhat fearful of growing up. I didn't ever want to lose my faith and turn away from everything I believed in and loved.
Now, almost 40 years later, my 12 year old self would have been relieved to know…
I still believe.


I still believe in Your faithfulness
I still believe in Your truth
I still believe in Your holy word
Even when I don't see, I still believe - Jeremy Camp
Tags:
onecarolinabrown
Latest Month
July 2015
S
M
T
W
T
F
S
1
2
3
4
5
6
7
8
9
10
11
12
13
14
15
16
17
18
19
20
21
22
23
24
25
26
27
28
29
30
31