Which one food would you choose to ban from existence, and why?
Snails.
I just don't get the whole eating snails idea.
I'm sort of thinking they work better in the garden than on a dinner plate. (But, actually, come to think of it, no one wants them in their garden either.)
And a great big "SORRY" to all my live-journal-escargot-loving friends for banning them from existence.
Perhaps I can offer you calamari instead
(although that comes a close second to being banned, as well).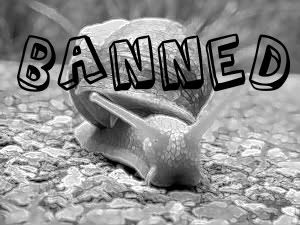 Tags:
onecarolinabrown
Latest Month
July 2015
S
M
T
W
T
F
S
1
2
3
4
5
6
7
8
9
10
11
12
13
14
15
16
17
18
19
20
21
22
23
24
25
26
27
28
29
30
31