Today's Writer's Block question raises a very good point…
One day each of us is going to be confronted with death.
It might be in one month. It might be in twenty years.
The fact still stands. Our days are numbered. And, then we will stand before God.
This is what I try to remember as I live out the predetermined number of days God has given me…
What does it profit me if I gain the whole world but lose my soul?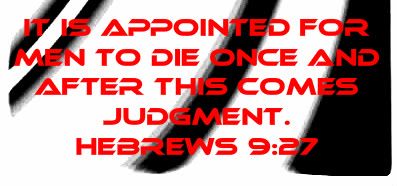 Tags:
onecarolinabrown
Latest Month
July 2015
S
M
T
W
T
F
S
1
2
3
4
5
6
7
8
9
10
11
12
13
14
15
16
17
18
19
20
21
22
23
24
25
26
27
28
29
30
31